In the latest Windows Update, you will find a lot of new and incredible useful features, making applications more accessible to users.
Our Top 10 Windows Features:
One of the latest features is a speech-to-text software, powered by Azure. This feature is ideal for note or minute taking or for those who struggle with typing or spelling.
How to Use Speech to Text feature:
You will need: a working microphone, internet connection.
To turn on Voice typing press the windows logo key + H on your keyboard
Select the Microphone icon to start using voice typing.
To stop voice typing, say "Stop Listening"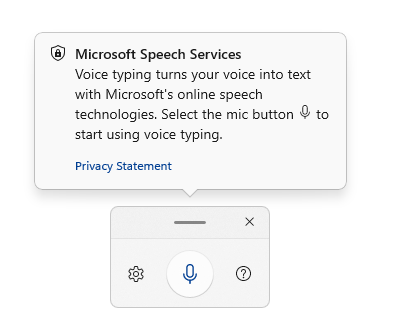 Previously known as 'Quiet Hours', Focus Assist is a feature put in place to reduce distractions and interruptions for individuals whilst using Windows. This feature is similar to one of a smart phone, 'Do Not Disturb', it stops notifications appearing whilst concentrating on something.
How to Use Focus Assist:
Start > Settings > System > Focus Assist
Choose option that suits you: Off, Priority Only or Alarms Only.
You can customise your "Priority Only" option to show or hide incoming calls, reminders, alarms, notifications from specific contacts and apps.
You're also able to set automatic rulings for the feature. You can set specific timings for specific options e.g., "Priority Only / during 8:00 – 15:00 / Daily".
The Narrator feature has been around for a long time. Its purpose is to help users read and navigate webpages and windows applications by reading the text on the screen aloud. This feature is especially helpful for those with eyesight problems or those who struggle with reading.
How to set up Narrator:
Settings > Accessibility > Vision > Narrator
Turn the narrator toggle button 'On'
To turn narrator on automatically, expand the drop-down tab and select when to start narrator – before or after sign-in.
There are also options to customise and change the voice to suit you best.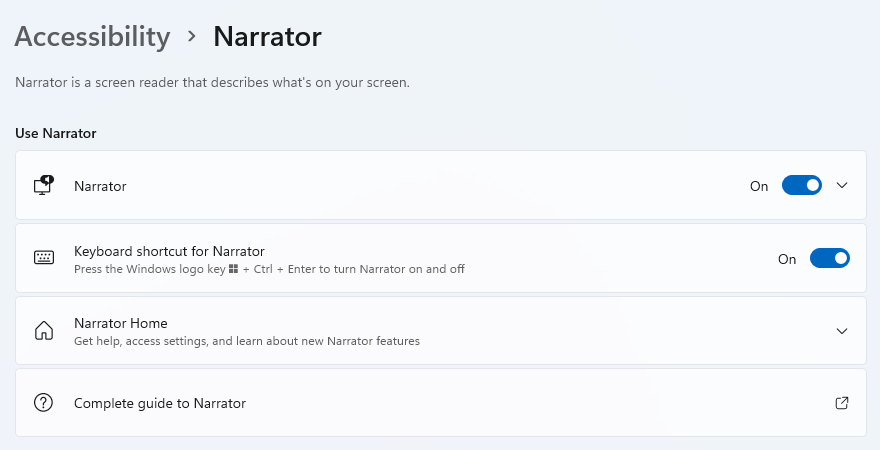 The Mono Audio Toggle allows you to combine stereo sound into one channel. Which is particularly helpful if you are using one earphone, or struggle with hearing or audio processing.
How to set up Mono Audio:
Start > Settings > Accessibility > Hearing > Audio
Switch the Mono Audio toggle to 'On'.

Windows latest update also includes a feature called "Contrast Themes" – also known as "Colour Filters". These filers/themes are customisable to cater for your needs. The user can adjust the background, text, and button colours. This can be especially useful for individuals with eyesight problems or dyslexic individuals who read better with coloured backgrounds.
How to set up a Colour Filter:
Start > Settings > Accessibility > Contrast Themes
You will be given four premade themes, but if you select one and click "edit" you are taken to a customisable screen; where you can choose your desired Background, Text, Link, Inactive Text, Selected Text,  Button background and Text colours.
This can then be saved as a new contrast theme.
Closed captions let you read the words that are spoken in audio as part of a video. They tend to be shown at the bottom of the video. This feature is helpful for many people, including those with hearing disabilities or for individuals who cannot have audio played in their environment.
How to turn on Closed Captions:
Open a video and as it plays, right click on the video.
A menu will appear; if close captions are available for that video a CC icon will appear – click on this.
To turn them off, click the same icon again.
How to Customise Closed Captions:
Start > Settings > Accessibility > Hearing > Captions
Here you will be given some options of caption styles, these include:
White on Black, Yellow on Blue, Large Text, Small Caps.
You can also edit these styles in order to customise them for what best suits you. You have the option to change the font, text effects, opacity, size, colour, background opacity and colour and the window opacity and colour.
Microsoft Edge Immersive Reader is a feature in the Microsoft Edge browser, created to simplify webpages with more clarity by removing all clutter on the page and leaving a simple, easy to read passage with no distractions. Immersive reader was originally designed to meet the needs of those with dyslexia, but many other individuals find it useful too!
How To Use Immersive Reader:
Using Microsoft Edge as your internet browser, visit the webpage you want.
Now, you can either:
Highlight the text on the webpage, right click and select 'Open in Immersive Reader'.
press 'F9' on the keyboard, and it will convert the whole page.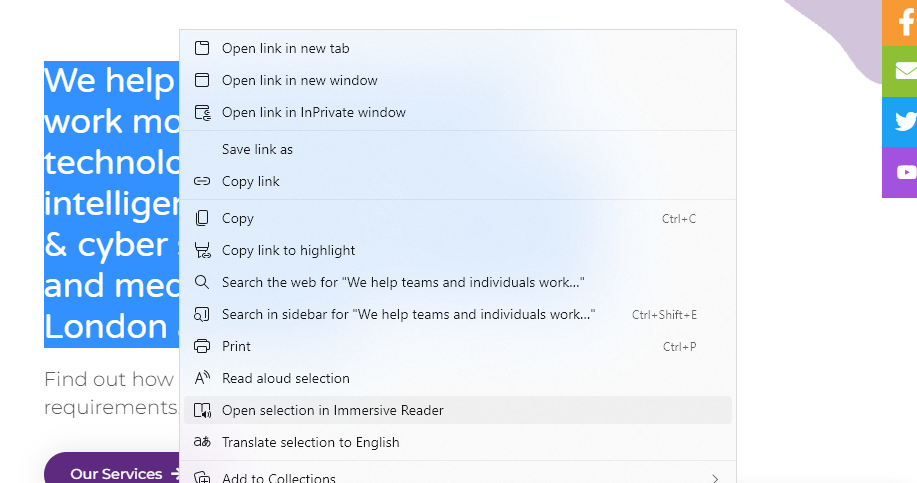 For those with hearing impairments, or prefer silent notifications, there is a feature on Windows 11 in which your audio alerts can be displayed visually. This means that you are notified for something by your screen flashing as opposed to making a notification noise.
How to Visually display Audio Alerts:
Start > Settings > Accessibility > Hearing > Audio
Then drop the menu down for the Flash My Screen option and chose which will suit you best:
Never, Flash Title Bar, Flash Active Window, and Flash Entire Screen.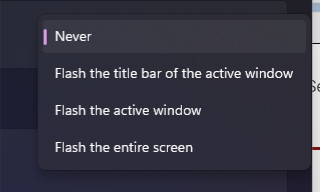 Finally, amending the PC/Laptop's text size is a great feature – and it's helpful to so many people. It allows technology to be accessible for all!
How to amend Text Size:
Start > Settings > Accessibility > Vision > Text Size
From here you are able to increase the text size to your liking with a slider bar.
So, whether you're a technical Wizz or a total novice, I'm sure there has been something in this article for you. Windows have updated their software to make applications more accessible for some users, but don't forget Timeless makes technology accessible for everyone.
Learn more about our Tech:Friend Services which are designed with you, and your technical skillset in mind; therefore, Timeless can make technology accessible for all.
Contact us today to learn more about the managed security services we offer.
Your business growth. Accelerated by technology.
Contact us Today to learn more about the managed security services we offer.
Timeless IMS - Your Outsourced IT Director
We help teams and individuals work more productively with technology by providing tailored intelligent managed solutions in four key areas of technology: Cloud, Security, People and Intelligence. We offer bespoke technology solution consultancy, design, procurement, implementation and ongoing managed support 24/7.